Well, that was an ordeal.. the final was four! frickin'! hours! long! which was at least an hour too long. My proposals for the runtime dilemma
–No more than 20 songs should be in the final (would people have rioted with six less songs? no? then no reason to put the audience through them
–No semi-final byes, four of the bottom six were from countries with byes which is not unusual at all. Twent songs that have all gone through the semi-final would be a much better evening.
This raises rather more questions than it answers…
The show: There was a lot to enjoy in the production, the opening with Netta piloting a plane to Israel was fun and seeing the nose of the plane on the screen as the artists entered was a nice touch. I was okay with the dancing postcards. Overall though, I prefer a lower tech orientation like Portugal's more minimalist approach last year.
The montages from previous contests were okay but my favorite part of the show was when they had several high profile winners and runners up singing each others' songs and I'm always happy to see Verka Serduchka.
There was no reason for Madonna to be there and the less said about that the better.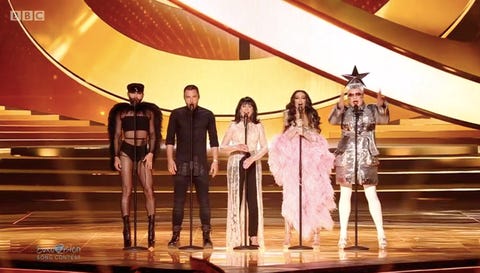 Maybe the nicest part of the show…
The songs with byes (boo! hiss!)
Germany: Two young women who don't look like sisters sing and shout at each other about being sisters. It was a bit like overhearing a private conversation so full of inside jokes and references that you can't understand anything…
Israel: A big guy who somehow reminded me of a friendly horse that's a little shy. A nice ballad but nothing earthshaking though delivered with a lot of conviction. When he burst into tears at the end I felt bad because I was sure the results would not be that great. I was right.
United Kingdom: Run of the mill underpowered power ballad that went nowhere… not surprising it was dead last.
France: Well that was…. what was that, anyway? Mix of French and English lyrics and a performance by a singer who looks a bit like an albino baby ostrich and a very heavy dancer and a bit of sign language (not enough) thrown in. It certainly gave the audience something. to. think. about.
Italy: Italy has been doing well in recent years because they send the winner of the San Remo song contest. I'm less enthusiastic about this than some other San Remo songs (like last year) but very credible… except his shirt which looked like it was made of a gaudy plastic shower curtain.
Spain: I could see this being a summer beach hit but it's not summer yet and it sounds a little too much like Alvaro Soler's Sofia after being 3D printed and then converted into braille.
I'm not sure if anyone wants these guys as their public spokesmen…
The Results: The voting was mostly smooth and they did what they could to keep the notoriously gabby jury representatives to announce their twelve points and get off the air already. The most overtly political note was Iceland holding a Palestine banner during their last moment on camera (when their televoting results were being announced). I don't know ho much that was sincere commentary vs punk pulling peoples' strings.
The televoting results were announced by whoever was lowest on the leader board which emphasized the gaps between the jury and the televoting. Biggest televoting gain was Norway (gargle gargle) and the biggest losers were Macedonia (why'd the jury love it so much?) and perpetual jury pet Sweden. They tried their best to stir up suspense repeating over and over how many points Sweden needed to win… before announced they only about about a third that number. The Netherlands was a very credible winner with a great performance (better than the semi-final which was much better than the blah video).